Getting back into the dating scene can be intimidating, especially if you haven't dated in a while. However, it is an important step towards finding happiness and companionship, and it can be a lot of fun. If you are ready to get back into dating, here are some tips to help you get started: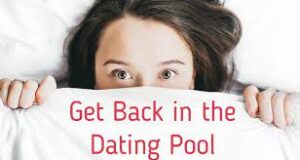 Set your goals. Before you start dating, it's important to have a clear idea of what you want out of a relationship. Do you want something casual, or are you looking for something more serious? Are you open to different types of relationships, or do you have specific criteria in mind? Having a clear understanding of your goals will help you find the right person and have a more successful dating experience.
Make yourself presentable. You don't need to be a supermodel to attract a partner, but it is important to take care of yourself and present yourself in the best light possible. This includes dressing appropriately, grooming yourself, and being mindful of your personal hygiene.
Get out there. The best way to meet new people and potentially find a partner is to get out and about. This can include joining social groups or clubs, attending events, or trying online dating. The more opportunities you have to interact with others, the more likely you are to find someone special.
Be yourself. One of the most important things to remember when dating is to be yourself. Don't try to be someone you're not, and don't try to impress your date with false stories or exaggerations. Being authentic and genuine is much more attractive than trying to be someone you're not.
Practice good communication. Communication is key in any relationship, and it's especially important when you're getting to know someone new. Make an effort to listen to your date and be open and honest about your own thoughts and feelings. This will help you establish a strong foundation for a potential relationship.
Be open to new experiences. Getting back into dating apps for women can be a great opportunity to try new things and broaden your horizons. Don't be afraid to step out of your comfort zone and try something new. This can be as simple as trying a new restaurant or taking up a new hobby.
Keep an open mind. When you're getting back into dating, it's important to be open to different types of people and experiences. Don't dismiss someone out of hand because they don't meet all of your criteria. Give them a chance and see where things go. You never know who you might connect with.
Take it slow. If you've been out of the dating game for a while, it can be tempting to jump into a relationship right away. However, it's important to take things slow and get to know the person you're seeing before rushing into anything.
Don't take things too seriously. While it's important to be open and honest with your feelings, it's also important to remember that dating is supposed to be fun. Don't take things too seriously and try to enjoy the experience.
Seek support. If you're feeling nervous or unsure about getting back into dating, it can be helpful to seek support from friends or a therapist. They can provide you with encouragement and guidance as you navigate the dating scene.
Download the HookUP Dating app from iOS, or HookUP dating app for Android.
By following these tips, you can get back into dating with confidence and start building the relationship you want. Remember to be yourself, communicate openly, and have fun, and you'll be well on your way to finding happiness and companionship.